You earn a royalty of either 50% or 65% from the sale of your VoiceMap tours, depending on your publishing plan. 
Royalties only apply to distribution channels managed by VoiceMap, which include in-app purchase, voicemap.me and resellers. If you use voucher codes to sell tours yourself, through your own channels, you only pay a fee for the voucher of $0.89, $0.62 or $0.31. The price of vouchers depends, once again, on your publishing plan. 
How are my earnings calculated? #
Royalties are calculated after payment processing fees, which vary by distribution channel.
Our distribution channels include:
Website purchases, processed by Stripe, which charges 3.4% plus $0.50 SGD per transaction. ($0.50 SGD is roughly $0.35 USD, but when the exchange rate moves, it can be a few cents higher or lower.)
In-app purchases, processed by either Apple or Google, which both charge 15% per transaction.
Online Travel Agencies (OTAs) like Viator, Musement and GetYourGuide, which charge a base rate of between 20% and 25%, but might charge more for greater visibility.
Open vouchers, which have a specific number of credits that can be used to redeem the same number of tours. A voucher with three credits can be used to redeem three tours, for example, and this is sometimes restricted to a specific city – so users might buy a voucher that can be used to redeem three tours in London only. The vouchers are sold for a single price, normally with a bulk discount, and this amount is used to calculate an equal royalty upon redemption. For instance, when a user redeems a tour with a voucher that had three credits – but now has two left – and that voucher cost $15, the publisher of the tour receives either 50% or 65% of one third of $15 – so $2.50 or $3.30. Our gift vouchers are an example of this.
Open vouchers are a tiny portion of overall sales for the time being, and the majority of purchases through VoiceMap's channels are made in the app, via OTAs, or on our website, in that order. We're also always looking for new distribution channels to add to this list.
You can use this calculator to estimate your royalties with different sale prices, different channels, and different publishing plans.

Once your tours have been published, you'll see sales reflected on your reporting dashboard in real time. You'll find a guide to the sales reports on this dashboard in the next section of our documentation.
How do I get paid? #
At the moment, there are three ways to receive payments, and each of them has a different threshold:
Paypal, $50 minimum
Bank transfer to US, UK and EU accounts, $150 minimum
Bank transfer anywhere in the world, $1,000 minimum
You can select your payment preference by going to the Payout Options screen.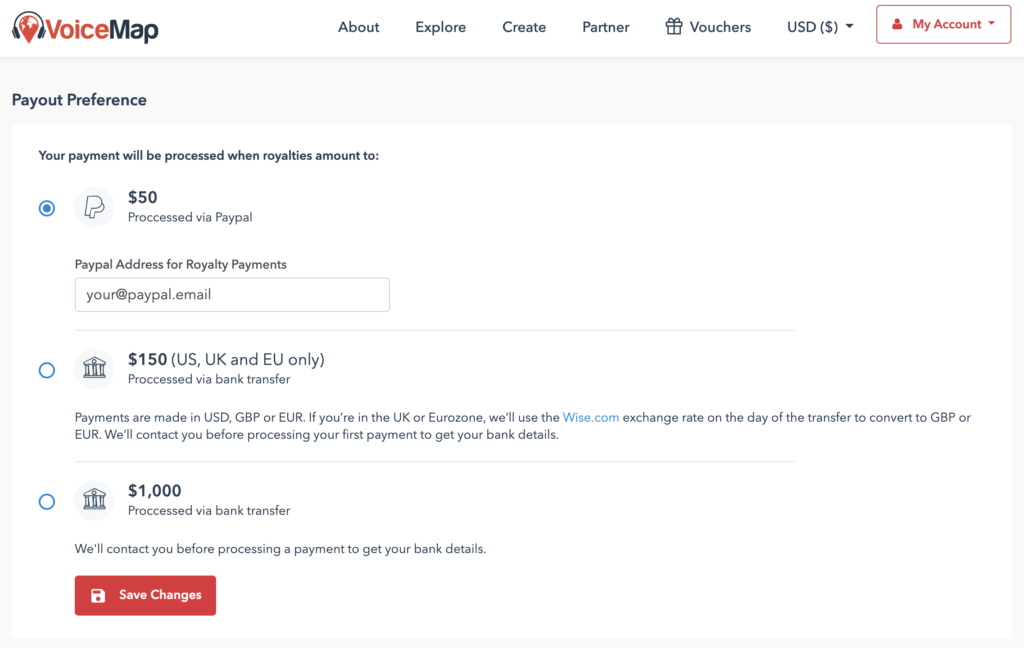 We process royalties in the first week of the month. If you have reached your chosen threshold by the end of the previous month, we'll send you a royalty report indicating the amount to be transferred.
The payment itself is made in the course of the month. If your payment preference is Paypal, and you have already added a valid Paypal email address, you'll often receive the funds within 24 hours of receiving your statement. But we can receive transfers from resellers as well as Apple and Google "up to 45 days after the last day of the month in which purchases were made". That's as many as 75 days after the royalty reflects on your dashboard, in other words, if it's for a tour that sold on the first day of a 31 day month. As a result you might wait a few weeks, especially if we're making a lot of large royalty payments that month. 
If your payment preference is a bank transfer, we'll contact you to confirm your bank details before sending the money. The transfer is typically made in the currency of the destination account – and in the case of UK and EU accounts, we'll convert from USD to GBP and EUR at the Wise.com exchange rate on the date of the transfer.
How can we make this more useful?
Was this part of the tutorial not detailed or clear enough? What questions do you still have that could have been answered here?